The ecommerce buyer's journey is what takes a customer from discovering and exploring a product to deciding to purchase it – and you have more control over this process than you might think. Optimizing the buyer's journey is crucial if you want your leads to have a great experience on your site, and convert into paying customers. Continue reading to learn how you can do this in four easy ways.
Successful Website Navigation for Online Buyers
From window shopping to browser windows, more consumers are shifting their purchase power away from brick-and-mortar stores in favor of e-commerce options. Even though hitting the mall can mean time with friends, the comfort of shopping online in sweatpants and fuzzy slippers is hard to resist. With consumers currently making half of their purchases online, it's important to ensure that your ecommerce site is capturing its share of this more than $3 trillion industry.
As online sales soar, businesses that use ecommerce as a main driving force for their revenue must deliver a seamless user experience to consumers. By understanding the buyer's journey as it applies to ecommerce, you can feel confident that you're locking down more business and losing less revenue. From awareness and consideration through to decision-making and advocacy, we look at each step and what that means for your online buyer's journey.
Step 1: Ecommerce Website Navigation
During the awareness phase of the buyer's journey, a consumer might decide to visit your website after being intrigued by your business' Instagram account, for example. Hoping to learn more about your brand and possibly make a purchase if something catches their eye, they may lose interest quickly if your site is not easy to navigate. According to Crazy Egg, e-commerce sites have about 59 seconds to generate consumer interest before a potential customer closes the page and moves on.
A strong online shopping experience means consumers will know exactly how to click through your website to easily find what they're looking for. Improving site navigation creates a better online shopping experience, which ultimately results in increased sales.
Slotting products into categories is one great way to improve the user experience because it creates a more intuitive platform by which shoppers can seek out the items they want to purchase. Be sure to follow navigation best practices for this, such as placing the navigation bar at the top or to the left of the page. This is where a consumer's eye will naturally be guided when shopping online.
Search functionality is also a great resource for consumers on your ecommerce site. If a customer visits your site looking for something specific, the ability to find it quickly can mean the difference between a sale and lost revenue. And like the primary navigation bar, your search bar should be at the top of the page so users will know where to expect it.
Step 2: Product Information
Once a consumer is aware of you, the next step is to take them through the consideration phase of the buyer's journey. Unlike shopping in brick-and-mortar retail stores, online consumers aren't able to test, touch or feel a product. This shortcoming of e-commerce means it's important to feature quality images – or even better, videos – that show shoppers exactly what they're purchasing.
Customers having to make assumptions about product quality can lead to a failed sale or even a negative online review. Ideally, your site will offer great thumbnail images to draw users in as they search through products, plus product lifestyle shots to show the item in "real life." Depending on the item, sometimes a video that captures the appearance of a product or how to use it is even better than a lifestyle photo.
Detailed product descriptions are also very important. You should describe the product's features and benefits, what the product is made of, how to use it, and any applicable warranties that are included. Again, since online shoppers can't see and feel the product, it's important to provide as much detail as possible to reassure them that they will be satisfied with the purchase they're about to make.
Another way to empower online shoppers is to post reviews of your products. 97% of e-commerce shoppers reported that customer reviews influenced their purchase decisions. 92% said they would hesitate to buy a product that has no reviews at all. Honest reviews from other shoppers provide consumers with an unbiased opinion that will influence their own decision to purchase.
You might wonder, "what if someone leaves a bad review?" Negative reviews do occur, but they give companies an opportunity to reach out to the unsatisfied customer and hopefully correct the problem they experienced. This will ensure a solid reputation of good customer service for your brand, and hopefully create an open door for the disgruntled customer to come back and shop again.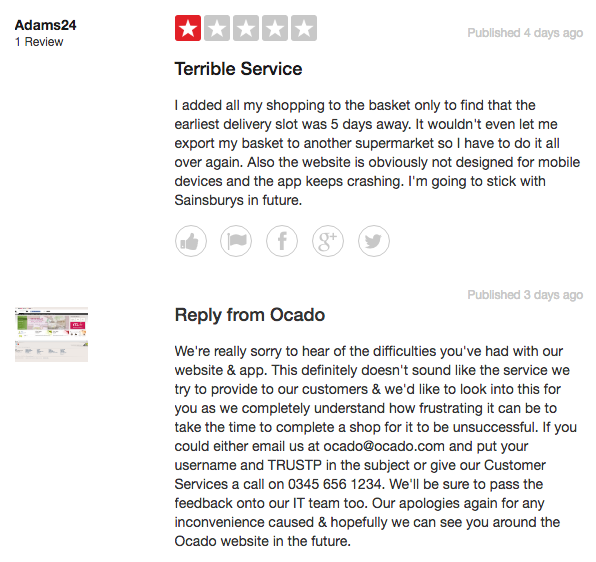 Step 3: Checkout Process
So, an online shopper has filled their cart with your products. This means they've transitioned into the decision-making phase of their journey – which is great! However, you can't celebrate just yet. 74% of online shopping carts are abandoned prior to completion of the sale. One way to address this is to optimize the checkout process so it's quick and easy for consumers to complete their purchase.
If your site requires customers to create an account before they can check out, consider adding a guest checkout option. This allows your shoppers to quickly complete their purchase without having to jump through the extra hoops of entering detailed information about themselves. Additionally, many consumers do not want to receive special offers and other marketing materials that result from registering their personal information.
You might also consider providing shoppers with the option to save their information on your site so they can check out with the click of a button each time they return to shop. The easier you can make the checkout process, the higher your order completion rates will be.
Another effective tactic to help transition customer carts to order completion is a triggered email campaign. These can remind shoppers that there are items still in their cart and hopefully motivate them to return and complete the purchase. Once complete, a series of follow up emails to thank customers for their business, obtain reviews on the products purchased, and recommend other products they may be interested in, is an effective way to confirm for shoppers that they made a smart purchase decision.
Additionally, you might offer a coupon with a discount code towards their next purchase, to incentivize them to shop your online store again in the future.
Step 4: Consumer Advocacy
The last phase in the e-commerce buyer's journey is consumer advocacy. There's nothing quite like a peer review to persuade someone else to purchase – word-of-mouth is one of the most powerful marketing tools there is. In fact, 92% of consumers trust earned media, such as recommendations from friends and family, above all other forms of advertising.
By navigating them successfully through your website, providing plenty of high-quality product information, and giving them a seamless check out process, you have given your customers a reason (or more) tell other people about your company and products. Ultimately, by designing your website functionality in such a way that ensures a positive user experience, you will increase your sales and delight more and more customers each day.
Call us if you'd like to chat through how LimeLight Marketing can help your brand build a successful online buying experience.