Marketing and advertising have the same end goal: to get more of your products and services into the hands of more customers. I'm sure this explains why the two concepts are often used interchangeably.
But when it comes to your marketing and advertising initiatives, I think it's important to understand the differences between them and why you need strategic programs for both. After all, a holistic approach to these two disciplines can positively impact your company's bottom line.
What's the distinction?  
For starters, advertising is a subset of marketing. So I'll explore marketing first.
What is Marketing?
"Marketing is a contest for people's attention." – Seth Godin
Simply put, "marketing" refers to all the methods your company uses to reach out to prospective customers, with intention. Other variables, such as how your employees answer the phone, and good or bad feedback about your products and services, are also important but fall under the category of branding, which is a different topic – read about it here.
To understand marketing at its core, I'd like to pull back the curtain and revisit the "four Ps of marketing" from your college days – Product, Price, Place, and Promotion. These principles may seem like antiquated Marketing 101, but the internet age effectively redefined them and has given companies a wealth of new methods to access large amounts of customer and product data. Even with the shift to a massive e-commerce marketplace, the "four Ps" have stood the test of time.
Let's take a look at how each one remains relevant.
Product
A company's product not only refers to tangible items, but also to intangible services or experiences. For example at LimeLight, our products are the marketing and branding strategies we offer to our clients to help them grow their businesses.
In order to market successfully in the age of the internet, it's important for marketers to have a clear strategy encompassing the product mix they offer and how it is differentiated from competitors. With e-commerce purchases continuing to increase and product reviews prevalent on social media, marketers are less able to control the narrative around the sale and customer experience of their goods and services. Having a precise strategy around their products and how they meet the needs of their target customer, is key to success in the digital age.
Product Marketing
How to price any product requires careful consideration of both what the marketplace will support and how much revenue a company needs in order to grow profit. A misjudgement too high or too low could damage the product – and even your brand's –  reputation. Understanding market data around margins, perceived value, and the opportunity costs of not buying, is essential.
From a digital perspective, once you've determined the appropriate prices for your products, go ahead and put them on your website. Customers often browse according to how much items cost and having that information available has been shown to result in a higher conversion rate.  
Price is more important for brands who sell a commodity product or struggle to differentiate themselves in the market, whereas it become less of a focus when brands build true brand equity and create demand and premium value.
Placement
It goes without saying that e-commerce has dramatically affected the viability and longevity of brick-and-mortar retailers.
That said, "place" now refers to the variety of ways your customers access your products, as opposed to where to physically find them. In retail stores, a well-thought-out merchandising strategy is necessary to maximize the natural shopping patterns of a customers' journey through the store.  
Digital marketing, however, is about ensuring the right product is available at the right place and time, when consumers need or want it. This means you have to take into account all the shopping options of your target customer. Are they using their laptops or browsing on phones and mobile devices? Are they shopping for the same items online that they're looking for in brick-and-mortar stores? And how are they engaging on social media following the sale?
"Place" also means having a solid SEO strategy to ensure desired positioning. At Limelight, many of our clients hire us to help them execute an effective plan for SEO, as it's often considered the single most important factor in developing a B2C marketing plan.  
Ultimately, customer touch points with your product and your brand will likely occur at a variety of places – both online and in-store – so this must be considered when creating a marketing strategy.
Product Promotion
"Promotion" includes all the ways marketers create and sustain awareness of their product. Retail promotions, media events, direct marketing, and advertising – plus digital marketing like social media, banner ads, and email campaigns, are all marketing communications that share product information with target customers.
Leveraging the internet, promotion can even be recognized independently for what it contributes to marketing strategies from a growth perspective and the ever-increasing ways that customers can be reached. Promotion opportunities like pay-per-click and sponsored social media content make promotion more measurable than any time previously.
It is worth noting too, that marketing tools with such an expansive reach come with a new responsibility – as I stated above, you must be diligent with controlling the narrative around how your products are presented and discussed. Stay informed on the latest trends in social media, engage with groups, and in some cases create profiles in order to comment or become involved in relevant activities.  
Promotion gives us a natural segway into how advertising works and is different from marketing.  
What is Advertising?
"What is happiness? It's the moment before you need more happiness." – Don Draper
In between swigs of his Manhattan, Don Draper, of Mad Men fame, was adept at selling his clients advertising campaigns which effectively captured the fleeting attention of their target customers. Given the average human attention span is about eight seconds, advertising is not intended to be a holistic customer experience with a product, but rather a fragment of the totality of customer touchpoints with a brand.
Advertising is about taking the overarching strategy outline of how a company positions their products in the marketplace (marketing), and then communicating the strategy to an audience.  
Let's look at an example of aligning position and promotion. The North Face positions their brand in saying  "The North Face will maintain an unwavering commitment to pushing the limits of innovation and design, so that you can push your limits outdoors. Never Stop Exploring."
Their Instagram ad aligns perfectly to their positioning.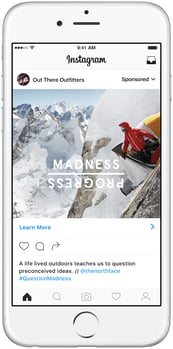 However, there is a key point of differentiation here I would like to stress. Once a marketer begins to execute an advertising campaign, they need to be sure to shift the intention accordingly; moving away from "What is my objective?," (a marketing question), to "What does my customer want and need and how can we solve that?"
Advertising is about successfully managing customer buying behavior of the product offering and converting the buy-in to sales. This is especially critical given advertising has a hard spend associated with it and is often the largest budget expense. ROI can quickly decrease if the money spend on advertising isn't landing exactly where the customer need meets the promotion.
In addition to traditional advertising methods – television and radio ads, magazine ads, billboards, etc. – more modern advertising includes tactics like banner ads, sponsored social ads, and pay-per-click, which have now evolved even further into more contemporary options for companies to consider. The digital landscape means marketing and advertising methods expand rapidly, and there is more opportunity than ever before to ensure your budget dollars work effectively in generating positive customer response and sale conversion.  
Ultimately, marketers must understand how marketing and advertising work together to successfully bring a product or service to market. In a sometimes crowded space, developing a marketing strategy that is crystal clear on the purpose and timing of the advertising portion is the most effective way to create desired impact, and ultimately ensure success of the brand.