To be relevant and reach people today, having a presence on social media is not optional. Your potential customers are on social media, so you need to have an active presence where you engage and connect with people on social media. Instagram is a social media powerhouse, with 800 million users scrolling through pictures and videos each month. With that many eyes on Instagram, it's smart to get your own content out there and build a following so that people are drawn to your product or business.
We've put together the top 9 ways to increase the number of followers on your Instagram account.
9 Tactics to Grow Your Instagram Following
1. Use relevant hashtags
It seems that Instagram is the most important social medium to use hashtags and to use them well. By using the right hashtags on your posts, you are exposing your content to a wide audience who want to see photos and videos like yours. Research what hashtags are best for your posts by watching what your followers and others in your industry are using. A great way to track hashtags is through Iconosquare, a tool used for scheduling and posting to Instagram for businesses. Iconosquare has a tool to track hashtags that tells you the frequency of posts that use a certain hashtag and the engagement that those posts get.
Hashtags are so popular that Instagram made it possible to follow a hashtag. It's been proven that an Instagram post with hashtags gets higher average engagement. Hashtags are a major key to growing your following fast. In fact, last week Instagram made an update to user's accounts so that you can now tag other users and use hashtags in your bio. This allows more people to find your profile based on who you are associated with and what hashtags you use in your profile. If your company and a sister company have separate Instagram accounts, this would be a great place to share each other's profiles. That way, if your followers don't overlap much, both accounts have the opportunity to gain more followers and benefit.
Whether your company sells #athleticsupplements or consults on #digitalmarketing, users can find you and they may turn into new leads all because you got smart about using hashtags in your profile.
2. Post consistently and post often
In 2017, the visual marketing tool, Tailwind studied more than 100,000 Instagram accounts to learn how the frequency of posting affects follower growth and engagement. Their evidence shows that the more you post, the more followers and likes you get. According to their research, profiles that posted seven or more times each week get more likes and grow their following faster than those who post less often.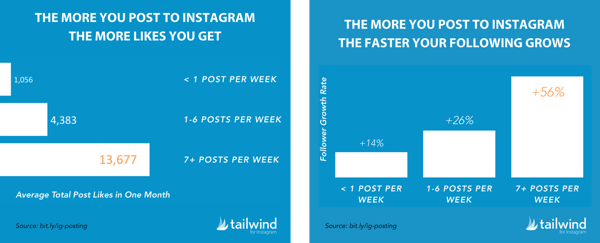 The way Instagram's timeline algorithm is set up, consistency is important to getting your posts to the top of your follower's timelines. However, if you are posting often, but not posting quality content, it's important to prioritize quality over quantity. Your followers won't engage with low quality content, so focus on posting great content consistently. If your followers are engaging with the photos you post, you'll get an even bigger boost on Instagram's algorithm.
3. Engage your followers
To be pushed to the top of your follower's feed by the Instagram algorithm, engagement plays a main role. The more engagement a post has, the more people will see it appear in their feed. With enough engagement, your post could be featured in the top posts for a given hashtag or in the Explore tab, reaching even more people and possibly gaining more followers.
To get your followers talking, include a question at the end of your post. When people comment, always reply back to them or like the comment. You want to affirm them for joining in on the conversation and your followers will appreciate that you reciprocated and continue the conversation.
4. Hold contests for your followers
Continuing in the importance of engagement on your posts, contests are a great way to do that. We use giveaways as a tactic for many of our clients that sell a product or use e-commerce for their business. Contests are a great way to increase your reach on Instagram and gain new followers. You don't have to give away expensive products or money in your contest. Your followers will be just as excited to win a swag bag or a branded T-shirt.
When we hold a contest for a client, we make sure that the contest accomplishes two things: engagement and page follows. In the contest rules, include that in order to win, you must be following the page and comment on the post. You can also use contests to gain information that you've been seeking. You can direct followers to a landing page that asks for their email address to be entered into the contest, so if you're looking to grow your email database, this is a great way to gain emails. Contests are a great way to grow your following without spending much of your time or money.
5. Use video, live videos and Stories
What once began as a square-shaped photo sharing platform has now turned into a dynamic social media platform where you can share videos, use crazy filters and even go live to your followers. With these awesome updates, brands can engage with their followers in so many ways. We already know that video produces more engagement than pictures do. Put that fact into action on Instagram by sharing company videos, behind-the-scenes videos and tutorials. Your followers will love it.
When you go live on Instagram, you get pushed to the front of all of the Stories on a feed. If you see an opportunity to do a Q&A with your followers or show off a product or service in a different way, going live is the way to get your content in front of the eyes of a lot of people.
Did you know that more than 250 million people use Instagram Stories every day? Yeah, that's 250 million people watching and posting stories about the coffee they're drinking, the event they are at or a thing that they love.
6. Collaborate with other accounts
This tip is mainly useful for companies that have a tangible product that they are selling. Collaborating with other companies that sell a complimentary product is a great way to increase your following with people who are in your target audience. If you have a budget to reach out to the influencer marketing world, you are guaranteed to get your profile seen by people who may not have stumbled on it otherwise.
Collaboration doesn't always have to cost a fortune. Find a brand that's complimentary  to yours. Say you're a SAAS company selling CRM software, and your software integrates with a marketing automation platform, a great way to collaborate is to create a short video showing the value that both systems provide when working together. Both companies can share the video and tag one another and voila! You're both gaining new followers who might not have otherwise found you.
7. Share user-generated content
If you are established in the social media world, you probably have followers who are sharing your product or service on their own accounts. Take advantage of this! Give those followers a pat on the back for sharing by reposting their photo or video on your account to show real people who love your product. You'll get lots of engagement because people love to see their stuff get recognized. Always be sure to give credit to the person or company who took the photo, but don't miss these opportunities to share raving reviews!
8. Post at your peak time
There are good times and bad times to post to Instagram, and those times are different for every industry. If you sell B2B, most of your followers are probably not looking at their phone from 9-5. If you sell a product that college students love, 9-5 is likely your best time. Timeliness is actually a main factor in the Instagram algorithm, so it's important that you find the time that your followers are most active. Here's how to find those peak times for your business:
In the Instagram app, tap on the bar graph next to your profile name

Scroll down to "Followers" and tap "See more"

Scroll to the bottom where you can see the peak times where your followers are on Instagram
.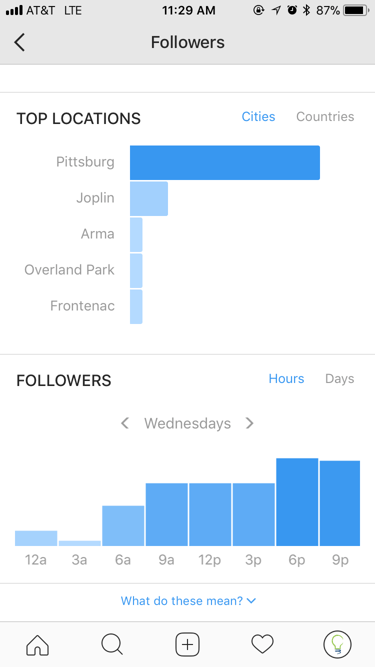 Once you have that information, you can plan your posts around the times that your followers are more likely to see them.
9. Use your analytics
Another great way to grow your followers is by posting the content that your followers like and want to engage with. Seems simple, but how do you know what your followers like? If you don't want to pay for an analytics software like Databox, the Instagram app comes in handy for this one also.
Go back in to your Instagram app and tap on the bar graph icon next to your profile name.

Scroll down to "Posts" and tap "See more"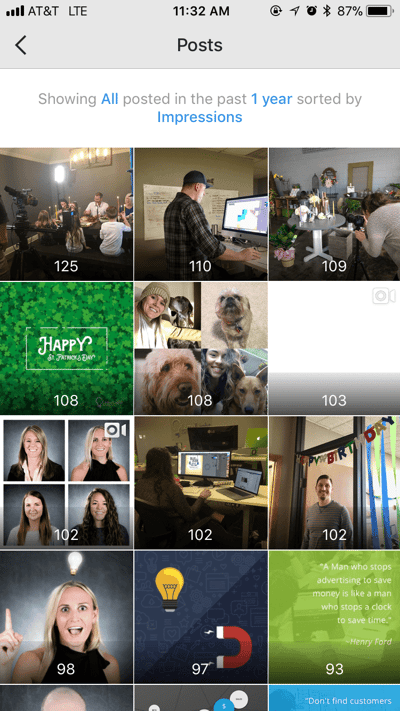 From here you can see your top posts sorted by impressions. This tells you the types of posts that your followers are loving. From this, you can continue to create more popular posts like it or try some new, creative ideas and compare how well they do to your already popular posts.
Being successful on social media is well within your reach. By using these 10 tactics, you will begin to see your following on Instagram grow. All it takes is intentionality when planning out posts and evaluating how your posts are performing against your goals. Want to continue the conversation about growing your business through social media? We would love to chat with you.