As a small business owner myself—and a marketing agency at that—I know a solid marketing plan is an essential part of generating sales and increasing revenue. However, what might be less obvious to business owners is the critical role a company's brand plays within the marketing mix.
A strong and prominent brand is an invaluable tool to utilize as competition increases and companies continually fight to stand out from the crowd. You've spent time and money defining and building your brand story, so it's important to also realize its potential as a foundational piece in your marketing communications arsenal.
Here are three important reasons why a strong brand presence is the key foundation on which all marketing messages should be built.
Emotional Branding
connect target prospects with your product or service
When it comes to purchase decisions, there is a common misperception that consumers use their brain's reasoning skills to weigh all the options and choose whichever one makes the most logical sense. Studies have proven, however, that people make decisions based on emotions first, then use logic to support the decision.
Consumers are so emotionally driven, in fact, that the feelings a consumer utilizes and experiences while evaluating one brand over another show up on functional magnetic resonance imaging of their brain.
In his best-selling book, Purple Cow: Transform Your Business by Being Remarkable, marketing expert Seth Godin addresses what makes consumers say, "Wow" about a brand. "Connection, meaning, humanity, things that change them in some way. No one is impressed by your features or even your price."  (By the way, if you ever have the opportunity to hear Seth Godin speak, do it! He is probably the most engaging presenter I've heard.)
Accordingly, national brands that create emotional connections with their customers are often also the most powerful and prevalent. Apple is an excellent example. Of course they have cool products and are on the leading edge of innovative technology, but what Apple has really succeeded at is the creation of a lifestyle movement. Their ads often portray emotional stories around how their devices connect people.
The late Apple CEO, Steve Jobs, initiated a ceremonial process of hosting events in order to unveil new products, a tradition current CEO Tim Cook continues. Such pageantry gives their customers a true sense of being part of the Apple brand experience. Other manufacturers might produce devices with features that are arguably more beneficial to end users, but they will typically not be able to dissolve the emotional bond Apple loyalists have with the brand.
One of my favorite brands, Dollar Shave Club, also does an excellent job of connecting with emotion – but it's not the same emotions that Apple plays on. Dollar Shave Club uses clever humor and witty copy to tap into the emotions of (primarily) men. Some of their recent blog titles include Can Shaving off Your Body Hair Keep You Cool in Warm Weather? and Does Peeing on a Wound or a Jellyfish Sting Actually Help?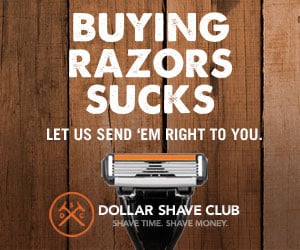 [click for video]
When giving thought to your next marketing campaign, keep in mind it won't be enough to win the wallet of your business prospects, you'll want to win their hearts and minds as well.
Brand Messaging
stand out from your competition
Today, most anyone with a good idea and a solid business acumen can start a company. While that's great news for our consumer-driven culture, it also means companies must find effective ways to rise above the competitive fray.
Given that it takes only a tenth of a second to form an impression, we must consider how this principle applies in marketing. Upon the first encounter with your customer-facing content, a consumer will have an immediate reaction. Do they want to investigate further? Or do they move on?